Windshield Repair
Get Windshield Repair Quotes from Up to 5 Local Shops
Find exclusive discounts only on Glass.net
Simple 30-second secured process
Compare up to 5 unbiased cost estimates from the best-rated shops near you
Choose the price and service that fits your needs - free of obligation!

Did a great job installing my windshield...and their price quote never changed.
Repairing Your Windshield Just Got Easier
It's likely you've arrived here due to some irritating event that resulted in the need for windshield repair. If you feel that yet another task has been added to your to-do list when you're already short on time and money, you're not alone.
Damaged or broken windshields are one of the most common causes for consumers seeking automotive services. While no one wants to go through the process, Glass.net makes an inconvenient situation of getting a windshield repair more manageable.
Here's how we make the this a pain-free process:
Fast & Easy Search
We simplify your search for windshield repair by partnering with the most expansive network of auto glass shops and putting them at your fingertips.
With our efficient quote comparison tool, you get up to five free quotes from reputable local technicians. Essentially, we do the leg work for you by narrowing down your options with the top five most affordable prices for the job at hand, from only the best-rated companies in your local area that are licensed and qualified.
Get 24-Hour Service
Many of the businesses that partner with us can fix a windshield within 24 hours of selecting their service.
When you use our tool to estimate the cost, we will present you with multiple quotes. Most of the time, you will see that you can get speedy service. After all, who can afford to do without their car for longer than a day, especially if you live outside of a big city and your livelihood depends on it?
Get Service at Home or Work
Furthermore, Glass.net partners with mobile windshield repair services. This means that technicians can come to you at home or at your workplace to fix the damage, as long as you're parked in an area where your broken glass is covered and no moisture has crept in.
This allows you to carry on with your day without further disruption. This is another way we save you time and minimize the hassle.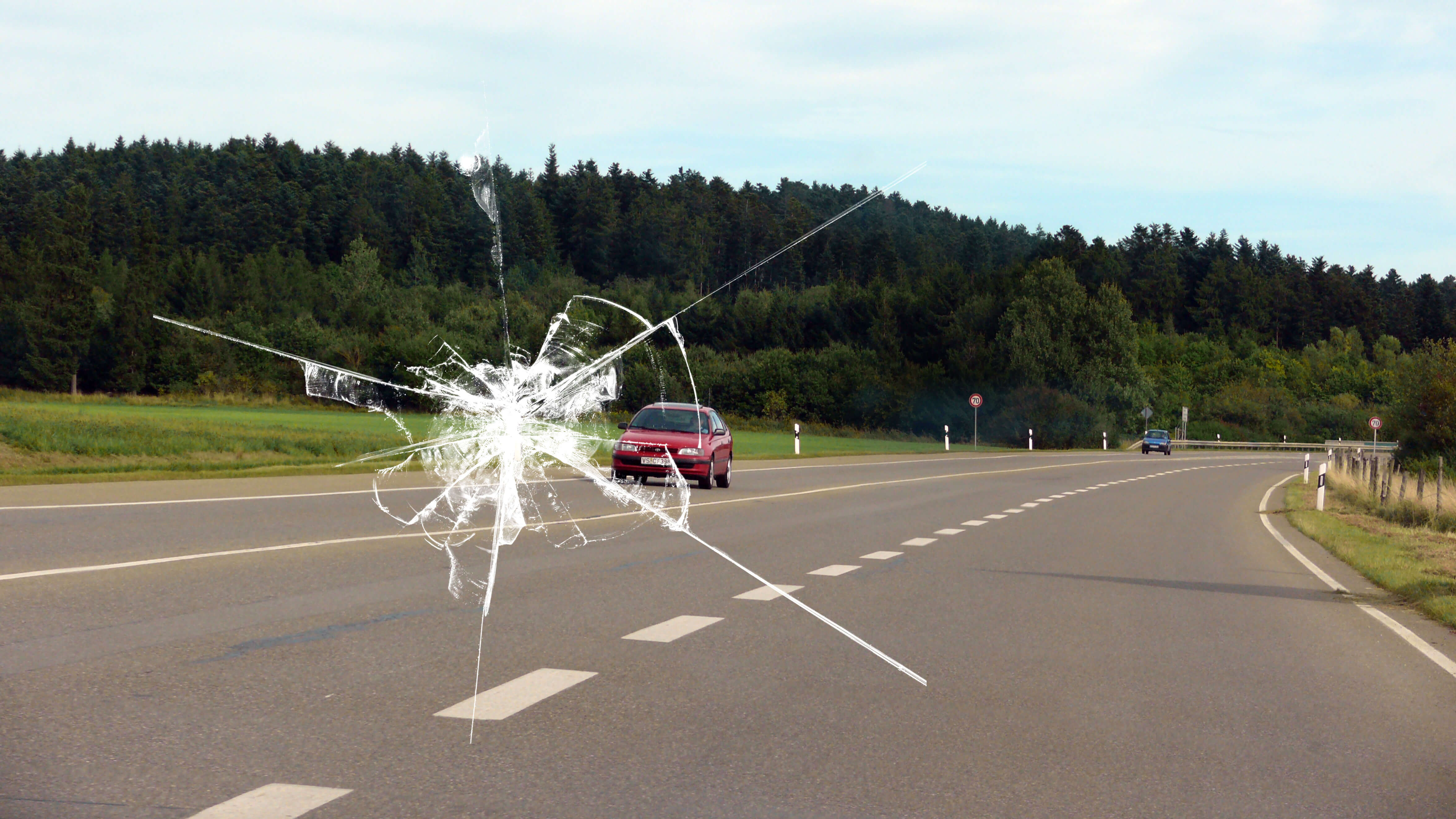 High-Quality OEM (Original Equipment Manufacturer) Auto Glass
We require that the providers we partner with must use the original type of glass that your manufacturer designates for your specific vehicle
This ensures that the glass put on your vehicle is of the best quality and won't compromise the integrity of your car, SUV, or truck in any way.
Types of Services Provided by Our Partners
At Glass.net, the automotive specialists we partner with can provide you with front or back windshield repair services for the following types of damage. Click on the links below to learn more about that specific type of damage and service.
Do I Need Windshield Replacement Instead?
Here are the factors that determine whether or not your car auto glass can be fixed with a simple windshield repair as opposed to a full-on replacement:
Size of the Damage
While advancements in the automotive industry make it feasible to repair substantial chips or cracks, generally glass with chips smaller than a quarter will qualify for a repair job.
Cracks that are less than three inches long also typically qualify for windshield repair instead of replacement.
You will need to check with the specific local provider you choose.
Depth of the Damage
How deeply a crack or chip penetrates your glass will also determine if your glass can be simply fixed. Since windshields are made of layers, the depth of damage can affect the amount of work that needs to go into fixing it.
If the broken glass reaches the middle layer of the windshield, it might be too far gone, and you might need a full replacement in this case a windshield repair will not work.
Location of the Damage
In Your Line of Sight
If the windshield chip or crack is in the driver's line of sight, it could slightly distort your perception of the road or the vehicles in front of you, even after it is fixed. This would make it necessary to get a complete replacement.
On the Edges of the Windshield
It's also a possibility that a shop will require you to replace your entire windshield if the chip or crack is located on the outer edge of your glass (left or right side).
Where Special Windshield Technology Exists
What's more, if the damage is located in a spot where a sensor or other special technology is located, a complete replacement might also be required. Modern automotive glass technology often needs a clear view to operate properly.
How Does the Process Work?
First Things First
To understand how the windshield repair process works, it's first important to know what comprises the glass on the front of your automobile.
A windshield has two sheets of glass with a plastic interlayer of lamination in the form of polyvinyl butyral (PVB) or ethylene-vinyl acetate (EVA) in the middle. This middle layer holds the two sheets of glass together.
The lamination layer is the barrier in between the glass sheets and is designed to hold the glass together if it breaks. This is why glass won't always shatter into a million loose pieces when it is broken, and serious damage can almost resemble a flexible sheet of broken glass stuck together.
Understanding the Types of Breaks
There are a few descriptors used when describing a type of break, and what they're referred to as can sometimes vary slightly depending on the technician:
Star
Several fractures like legs or rays coming outward from the impact point
Combination
Cone in center with legs protruding out from each side
Bulls-eye
Separated cone-shaped break that resembles the center of a dart board
Half-moon
Semi-circle surrounding the impact point
Straight-line
Longer breaks with a clear left-to-right straight fracture
Crack
Resembles a line, penetrating the outer layer to the lamination layer
Wing
Rays are right and left and upward, resembling wings
What Does the Technician Do?
What happens when your glass is punctured is that an air pocket forms between the top sheet and the PVD layer, because the top layer is the one that has been punctured. The fact that the top layer is the only part that has been compromised means you can do a repair instead of getting a completely new windshield.
When a technician makes the repair, they're essentially going to remove the air and fill it with acrylic carbon based curable resin.
Sometimes they'll hold a white card up against the break on the inside of the car, taking a look at the break from the outside to provide contrast to identify the exact damage. This will be important because each leg or ray of the break needs to be filled. And it's important for them to get a clear look at the impact point as well.
Residue such as car wax or Rainex can restrict access to the air in the break, but they will take steps to get around that. So it's something you don't need to worry about. A special drill will be used to penetrate the first layer, but not all the way through to PVD.
They might place a mirror on the bottom layer from the inside of your car, to make sure they can see all angles of the break while they are making the fix. To fix the break, they will use a device called a bridge, which has an injector that gets filled with resin and the bridge is secured to the windshield.
They will line the injector up with the point of damage and resin will start to fill the break. They will then pull the injector upward which which suck out the air along with it. Air will make its way out of the break as the resin falls in. Essentially, a vacuum and pressure effect is used for your windshield repair.
The more complex the break, the more skill is needed to fix the problem. This is why you shouldn't do it yourself.
If I Don't Use Glass.Net, What Will the Process Look Like?
If you decide to go straight to a repair shop to get your windshield repair without using Glass.net for quotes, that can work, too. You will just need to set aside some time and effort to do some extra research.
If you tend to be the type of customer who cares about getting the best bang for your buck, you will need to make a list of shops in your area. You can find these online via Google, or you can ask your friends for recommendations (from those who have had windshield repair services done locally). Then, you would call each shop and ask for a quote.
You will also need to ask if they use Original Manufacturer Equipment (OEM) materials. This is for quality purposes. Additionally, you should ask if they work with your insurance. You also will want to know if they'll offer anything extra for you, such as free mobile service if you need them to come to your home, as well as the earliest they can fix your glass. As you call each shop, make a note of all of this information next to the name of each shop. Then, when you're all done, you compare what's on your list and pick the shop that suits you best for your windshield repair .
While it's still possible to find a great deal from an insurance-approved, certified technician in your area without using Glass.Net, you won't get the exclusive discounts we've negotiated for the users of our website. And you'll probably spend anywhere from 30 minutes to 2 hours doing the research, as opposed to 10-30 seconds with Glass.Net.
Now that you're here, get up to 5 competing prices from companies in your area
It's FREE, and you have no obligation.