Glass.net was created to connect local glass shops with consumers.  Part of that is finding high-quality shops that keep up with the latest in consumer safety and best practices.  Part of that is also helping educate consumers on glass safety and choosing the shop that's best for their safety and budget.
The most vital part of this, is making sure this information is found both by possible shops that want to go through our sign-up process and join our network of approved providers, as well as being found by consumers who want competing local quotes.
Which is why we found this recent article on the top cars searched for on Google, to be fascinating.  
How did it stack up to our personal results on Glass.net?  And what does it say about people who are doing a general car search, versus those who just want their auto glass replaced?
We had a myriad of questions, and a real conclusion that was inspired by Google itself.  Today we wanted to share some of those thoughts and put an idea out there, hopefully for the right people.
Does Search Volume Reflect Ownership?
In the study by Topspeed.com we find that the country is basically divided by Toyota and Ford. There are a few anomalies that make enough of a ripple to be noted, such as the five states that are divided into both Subaru (we didn't see that coming) and Toyota, the one state divided between Hyundai and Toyota (Florida–also unexpected), and the single state divided three ways by Toyota, Ford, and Nissan (Tennessee).
But for the most part, it really is just Toyota and Ford.
That's only in Google search inquiry popularity, though.  What about vehicle ownership, as determined by Glass.net data?
Our top quote requests, which indicate car ownership (after all, who is going to request a replacement quote if they don't own a car), were split between 2 Toyota models, 2 Honda models, 1 Ford model, and 1 Chevrolet model.
So far, this does help support the Toyota and Ford theory–they are quite popular in both search and ownership.
What did this teach us?  General trends are often reflected in material reality.  So on we went on our examination to see what else we could find.
Do Locales Match?
What about locales in search inquiries on Google, versus visitors on Glass.net?
For instance, in Google searches Toyota tends to be popular along the coasts and in the south west, while Ford dominates in the mid-west and north.
Unfortunately, this really varies by time of year on Glass.net and skews comparative data.  That's because different seasons and localities will determine how many inquiries we get from a state.
As an example, when there is a sudden snowstorm in April in the great city of Chicago, we'll suddenly see a flurry of replacement quotes come from Illinois.  We also see a sudden peak in volume during the rainy season in other states, and even the summer if there is a sudden fluctuation of temperature.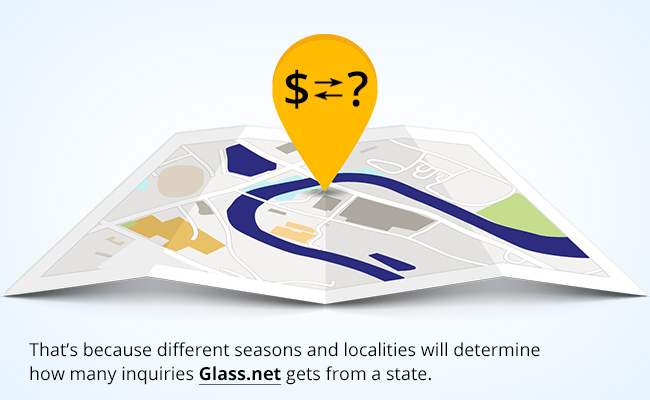 (That's because safety glass doesn't do well with the sudden expansion and shrinking that comes from sudden temperature or weather changes. Also, most people don't notice auto glass damage until it's too late and an emergency occurs–and it's most noticeable when adverse weather strikes.)  
On top of that, while trying to do the comparison, we realized there was no way to do this at even a macro level.  While people may search the most for Toyota in California, inquiries for a replacement quote across a state are much more varied.  We thought perhaps it would help to look at the top 3 epicenters of visitors to Glass.net (San Francisco, LA, San Diego), but the Topspeed report doesn't go into that much detail.
This leads us to inconclusive results.  However, this does make our team at Glass pretty happy about how closely we follow the data from our consumers.  This is something we know Google does as well, but this study didn't give us that information. But hey, if Google is tracking its data like a hawk, we surely can't go wrong following suit.
Coverage
Google always yields a tangible end result–though it's job is a little easier than ours, since it simply aggregates and sorts information on behalf of the user. Usually that information is the same in every state you search from, with few exceptions.  If you don't like the result, you begin searching with different terms–it would be rare for a searcher to suddenly jump to a different browser to look for results.
However, when it comes to replacing your auto glass, Glass.net has to have a certain amount of coverage.  This means that when you search for a specific term, like perhaps 'Los Angeles window replacement', we have to have a page that ranks and shows up high enough on a search engine to grab your attention.
More importantly, if you land on that page, we have to have enough auto shops to cover your needs for a quote.  On average, Glass.net must have at least 3 local shops to pull comparative and competing quotes from.  When you search for auto glass replacement, you expect to have a tangible result, in the form of a price and/or contact information for a shop.
If that tangible result isn't delivered when you visit our website, you will go to another site to get quotes and shop contact information.
Glass.net can only do that, if we have enough qualified shops in our network to cover our consumer's needs.
Which brings us to our grande conclusion and confession as we discussed the data as a team.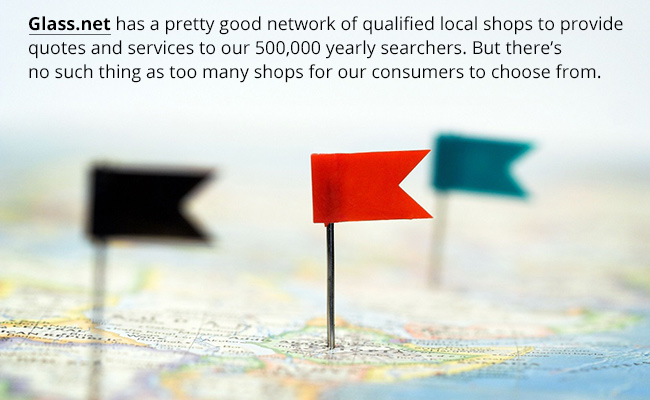 Let's face it, we're no Google,–though we certainly like to emulate their impetus for connecting data to solve real world problems.  Our coverage is limited to who we reach out to.
Glass.net has a pretty good network of qualified local shops to provide quotes and services to our 500,000 yearly searchers. But there's no such thing as too many shops for our consumers to choose from.
What's great about joining the Glass.net network of auto shops, is that it's no up front charge to your shop.
You simply go through our sign-up process, find out if you're qualified, and become a member of our network. This means that when someone searches for an auto glass replacement quote in your area, your auto-glass shop shows up in the competing quote results.
In particular, Glass.net looks for shops that are part of safety and educational organizations such as the IGA, those who have certified technicians, and those who use high-quality glass products.
If that sounds like your shop, start the sign-up process today.  It's our passion to connect you with consumers who need trusted and proven auto glass shops and technicians.
And as you can see, Glass.net is truly dedicated to making sure that consumers not only find our free quote tool, but that they're educated and matched to the right shops. We don't leave this to fate–we examine all the data available to us and look for patterns and opportunities.  Which means a lot less marketing work for you, so you can focus on what matters: keeping drivers and their families safe and comfortable.
Anyway, we could ramble all day, or you could go take a look at our sign-up process. Free, easy, and a great way to find people who are looking for you.  Dare we say, almost better than Google? (Maybe not, but hey we feel like superheroes and that's what matters.)